<!– Place this tag in your head or just before your close body tag –> <!– Place this tag where you want the +1 button to render –>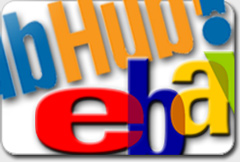 If your goal is to learn how to become a ticket broker, the first question you might ask yourself is, "Where is the best place to sell my tickets?" Unlike most questions you'll ask yourself as a newbie ticket broker, this one has an answer that is short and sweet: eBay and StubHub. Although they're both owned by the same company, selling sports and concert tickets will be a different experience depending on where you choose to sell. In this post, I'll go over the pros and cons of selling on each site, and I'll explain how I use both eBay and StubHub as different tools to get to the same goal: profit.
Let me break down each site for you:
Listing Styles
This is probably the biggest difference between the two sites. Whereas eBay eBay offers both fixed-price and auction-style listings, StubHub only allows you to sell your tickets as a fixed-price listing. (Trivia: StubHub actually used to offer auction-style listings, but they discontinued it in October 2009. I heard it was a total mess anyway, so we aren't missing much.) In practice, though, you should never use eBay's auction-style option unless you absolutely have to. When I first started selling concert tickets online, I thought I would let the market decide the price of my tickets and just list all my tickets as auctions.
Big mistake.
Very big. What ended up happening is that my tickets would sell for absolute market bottom prices. (This is why eBay is so popular–items sold as auctions almost always sell cheap!) So, in practice, always sell your tickets as fixed price listings, whether on eBay or StubHub. The only time you should ever consider selling your tickets as auctions is when the event is less than 2 weeks away and you absolutely need to get rid of them.
Listing Designs (and lack thereof)
This is another huge difference between selling tickets on eBay and StubHub. If you search for Yankees tickets on eBay, you would find sellers using all sorts of pretty colors and photos trying to entice you to click on their listing. If you make the same search on StubHub, all you'll see is a plain list of the Yankees upcoming games and dates. Buying tickets on StubHub is a better experience than on eBay because it's so much more organized, but as a seller it can be hard to stand out. Look out for future posts where I'll explain the best way to make sure your listings stand out on StubHub.
Fees
Yeah, fees suck. They'll eat you up on both sites whether you like it or not, but the lesson here is that eBay has lower fees than StubHub, and by a pretty good margin (about 93% vs. 85%). Although eBay charges a listing fee while StubHub doesn't, this is minimal compared to the Final Value fee that StubHub charges. I'll give you an example: If you sold 2 tickets for $400, your listing on eBay would net you about $372 whereas your StubHub listing would net you only $340. For one auction this might not seem like much, but if you add it all up at the end of a year, the difference in fees will easily reach thousands of dollars. But, there is one counterbalancing factor…
Shipping costs
Short and sweet: Sellers on StubHub get free FedEx Shipping; sellers on eBay do not. This difference won't totally neutralize the difference in fees, but it'll definitely make selling on StubHub a lot easier. Although shipping tickets on eBay can be super cheap and reliable, free FedEx shipping is a sweet deal. This also ties into another difference between eBay and StubHub:
Getting paid
Receiving money for tickets you sold on eBay is straightforward:
You list the tickets
Buyer buys your tickets
You receive payment through Paypal
You ship the tickets
Getting paid for tickets you sold on StubHub, well…not so simple. On StubHub, shipping and payment are one and the same. The process looks more like this:
You list the tickets
Buyer buys your tickets
StubHub provides you with a FedEx shipping label that you attach to your envelope
Drop your envelope with the tickets in a FedEx Drop Box
StubHub pays you via Paypal one week after tickets are scanned and delivered by FedEx
The upside of StubHub's method is that everything is automated. There is no need to worry about deadbeat buyers or getting paid the right amount of any of that. And speaking of dealing with buyers:
Buyer/Seller Communication
You probably know that potential buyers on eBay can contact the seller directly and ask them any question they want at any time. Not so on StubHub. StubHub allows absolutely ZERO communication between the buyer and the seller, no exceptions. You can't even tell the buyer to enjoy the show. Nothing. This is just another way StubHub maintains total control over every transaction, which helps to ensure everything will go smoothly. If you absolutely need to speak to the buyer, you would need to contact StubHub and ask them to contact the buyer.
Overall
Looking at my records, my profits are about split 50/50 between my tickets sold on eBay and StubHub, so there is no clear "winner" between them. Your own business strategy will dictate how much profit you gain from each. If you're looking to maximize how much money you make from selling tickets online, though, your best bet is to sell on both.