<!– Place this tag in your head or just before your close body tag –> <!– Place this tag where you want the +1 button to render –>
When I first started buying and selling tickets online, I was eager to get my hands on as many tickets as I could. I thought, "Hey, it's Bon Jovi! I'm sure this is going to sell for a ton of money." By buying tickets like wild, I was committing what I believe to be a young ticket broker's most common mistake, and that is buying mediocre tickets to high-priced events. By reading my experience, I hope that you won't make the same mistakes when you find yourself in the position to pull the trigger on high-priced seats. Let me explain:
Section
When tickets to U2's upcoming tour go on sale, you might think that even your nosebleed seats will sell for a ton of money just because it's U2. The thing is, though, most fans aren't searching for nosebleed seats. In fact, they were probably able to pull nosebleed seats themselves. The whole reason why they're on eBay or StubHub looking for tickets is because they don't want to be stuck with Reserved Section 407. What they're looking for is more like Section 2, Row A, and if you stray too far away from the premier zones of any venue, your profits will suffer.
I'll give you an example: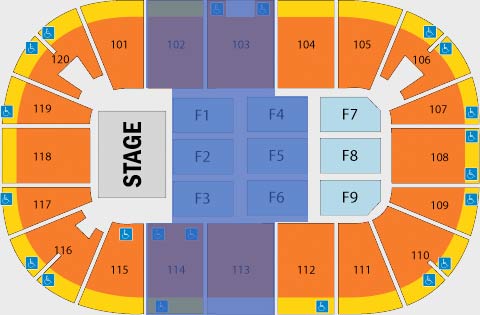 Unless the artist and venue are both superb (and I'm talking Bon Jovi at Madison Square Garden, that type of show), you're probably not going to make much profit from any section other than from the ones highlighted in blue.
I've learned my lesson, but back when I first started selling, I was losing hundreds of dollars on tickets that I should never have touched in the first place. Like these:
Bon Jovi, February 20, Section 113: -$151.10
Paul McCartney, March 28, Section 102, Row P: -$308.45
Paul McCartney, March 28, Section CCC, Row 19: -$299.15 (yes, same show!)
Paul McCartney, April 03, Section 3, Row 2: -$209.89
(Note that these shows were not at the venue pictured above.)
You know what the real problem was with these tickets?
Price
Look at that last example–those were second row seats! What went wrong? Well, two things. First, the section was in front of the stage, yes, but it was far off to the side. And second, but more importantly, the tickets cost me $567. I had to sell the tickets for $607 just to break even. Of course, I didn't even come close. It's hard to get anyone to pay $600 for any ticket to any show, even if you have middle floor, front row seats.
My general rule of thumb
Over my time as a ticket broker I've come up with a general rule that has probably saved me thousands of dollars in stupid buying decisions. And that is:
Unless the tickets are for a top artist at a top venue, never spend more than $150 per ticket.
Of course, there will be occasions when you pull amazing tickets on Ticketmaster (or elsewhere) and they happen to be above $150/each. In these cases, you have to check eBay and StubHub before you pull the trigger just to make sure these tickets are indeed selling for at least $200/each. Even then, it's risky.
Out of all my experience selling tickets, 95% of the occasions that I've lost money have been cases where I bought tickets priced above $150/each. By eliminating these purchases, you will also largely rid yourself of taking losses as a ticket broker. Now, "not taking losses" isn't the key to becoming a ticket broker, but it's a damn good start.